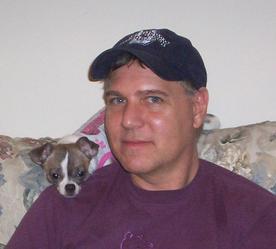 His fascination with "The Legend" began at a very early age after seeing one of the many cartoon versions on TV during the Halloween season. Always a history buff, a question long persisted in the back of his mind: Is "The Legend of Sleepy Hollow" a true story?

An avid stamp collector and exhibitor (specializing in the 1940 Washington Irving and 1974 "Legend of Sleepy Hollow" stamps), Gary has authored numerous articles and columns in the philatelic press. This is his first full-length book.

A life-long history and trivia enthusiast, Gary prides himself on being a walking encyclopedia of useless information. He also enjoys cooking and experimenting with new recipes, watches way too much television, and has been at various times a musician and songwriter. Gary is an electrical engineer in real life.

Gary currently lives in Maryland with his wife Sharon, two chihuahuas named Lucy and Mindy, and a thriving herd of cats.